---
1249378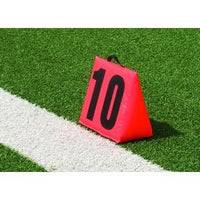 Vinyl covered foam with weighted bottom and handles. 15inch H x 15inch W with 10 inch tall numbers.
The 5 piece set includes: 2'G's, 2-20's and 1-40.
The 11 piece set includes: 2-G, 2-10, 2-20, 2-30, 2-40, 1-50.
***PLEASE NOTE***
Due to supply chain issues, Both 5 piece and 11 piece yard marker sets are on back order until 09/01/2022. We apologize for any delays this may cause.