---
PACK2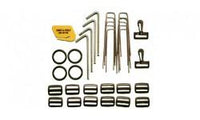 A package of all the hardware needed to customize your own  field lining system. This package includes:
4 - Anchors; 4 - Corner Rings; 16 - Slides; 1 - Clip; 20 -  Wickets; 1 - Line Cutter.
***Please note***
We have recently switched all fields from 1.5 inch material to 2 inch material.  If you need to purchase 1.5inch hardware for your previous field(s) please include a note at check out.