---
BAND30FULL-2W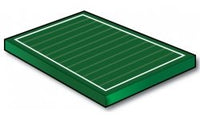 Marching band field, with or without crossing lines. 1.5 inch White. All necessary hardware included.
Field Size 53.3 x 40 yards . Length stretches from 30 yard line to 30 yard line

Printed hash marks for both high school and college specs are 53 feet, 4 inches and 40 feet apart.